This week in Scrapbooking - Hello
This is a test.  The truth is, we're not smart enough to tell you how to live your life, and we're not interesting enough to tell you how we live ours.  We're not popular enough to promote people's items, and we're not creative enough to promote our own.  However, we see so much scrapbook product and read so many blogs to decide what to buy, that we've formed an opinion on scrapbooking.  In truth we've already shared our opinion with others and half the people hated it.  Of course half the people like it a lot.  We'll never be the popular kid in class, but hopefully we'll be the most interesting.  Without further ado, here is this week in scrapbooking.
We can't tell if paper cupcakes are good or bad for diets, but real ones are definitely bad. Surprisingly, broccolli is too because you then have to balance your soul with a cupcake
There's a project out where people are asked
what they would save if their house was burning
. People would save mementos from grandma, pictures of the family, their bear. Not one participant listed their children.
We really admire the resiliency of scrapbook bloggers. This week a blogger's son
got into a big car accident and can't remember recent things.
However,
just like the wife of a near dead husband
, the blogger stoically took to the blogs nonetheless. We're ashamed to admit that should misfortune befall the family, This week in scrapbooking will not appear. This would likely happen without warning.
Penny Black Stamps are so awesome, they can put
advertising
on their blog. To advertise on This Week in Scrapbooking, please call us.
Tim Holtz has a new texture fade/stamp tutorial, just like Hero Arts.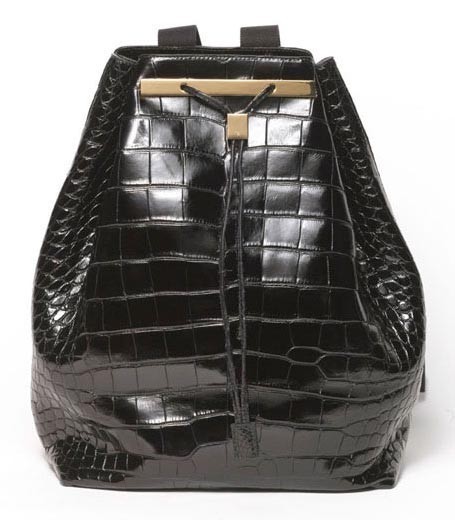 This is a $39,000 backpack. People have found this ridiculous, until googling for the most expensive accessory for men.
$400,000,000. Kind of puts the whole thing into perspective. Speaking of which, we are currently carrying the Big Shot for $69.99.
Judging by the unstoppable demand for sticky back canvas, we're sure that people are transferring pictures to fabric everywhere. We tried it in a class, and the response was so large such that we canceled the class. In any event, there's a cheaper way to transfer images to fabric
with this great tutorial
that takes a day, gel medium and a printer. Alternatively, you can buy an iron-on like normal people and do it in five minutes. But then, ask yourself, is it still art?
We already knew that you can color metals with copics.
What we didn't know
was that embossing powder seals the inks really well. That's the gist of this tutorial.
Here's the house of a professional.
We all make banners and wall hanging and such, but it takes a true professional to actually put it up at home. Of course how scary one is depends on what they drink and how little they eat.
And finally, a new Halloween tutorial:
Doing all three costs like $30, because there is only one 31 in each package. But here are a few more dates to help use up the rest of the stash.
All Saint's Day, November 1
All Soul's Day, November 2
Ching Ming Festival, April 5
Subscribe in a reader
Well, if you've read this far, please encourage our bloggers.
Older Posts
| | | |
| --- | --- | --- |
| Date | Name | Username |
| 2011-10-10 | | scrapperlicious |
| 2011-09-26 | | scrapperlicious |
| 2011-09-19 | | scrapperlicious |